DJ Rostock - Hire DJs für Weddings, Parties or Corporate Events
thanks for finding mobydisc Rostock - DJ Service. For 30 Years we've been the name behind good music. At least when it comes to finding the right DJ for your function. Mobile Discos complete with sound and light equipment to cater for any kind of venue. So be it a wedding reception, a club night or just the next party in Rostock - Just give us a quick call or send a short email to get your quote an availibilty. Our DJs cater for any kind of music, because at mobydisc we believe that it is you, the host and the guests to choose what music you like.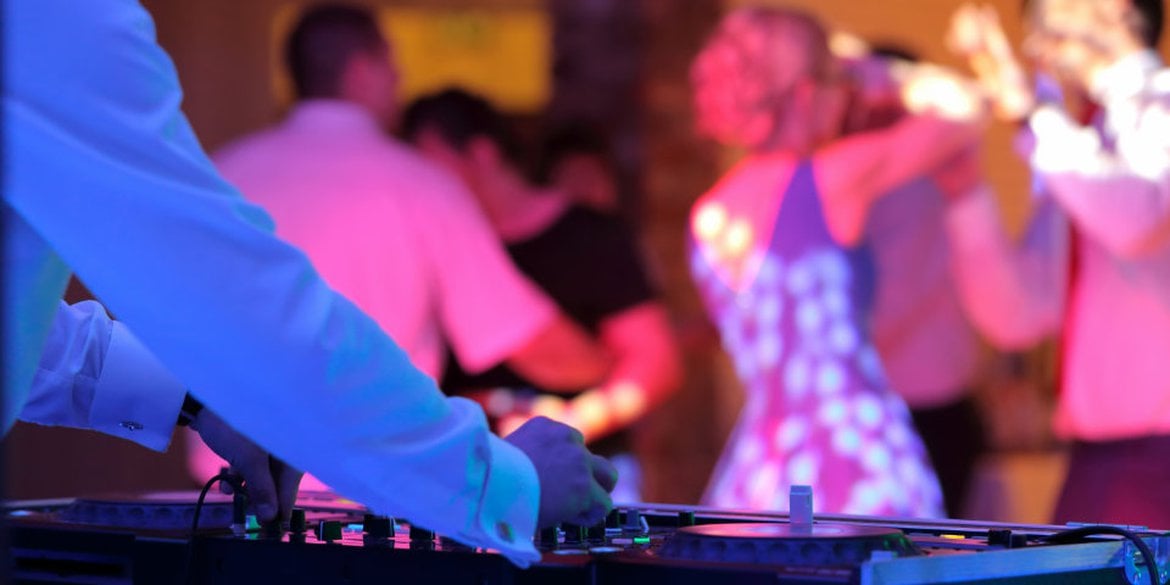 Booking a DJ in Rostock - The How to
Our special offer for DJs in Rostock
We look forward to sending you a quick rundown on the cost and availibilty for your date or even take a tentative booking free of charge.
By Phone
The quick and easy way to book one of our Rostocker DJs is to give us a call during our office hours. In a breeze we can ask you all the details we need to give you a quote on the spot and the cost for a DJ in Rostock kostet. We can also chat about your favourite music styles and what kind of equipment setup would be best for your venue
By Email
Outside offfice hours? Can't spend time on the phone? Just use the button in the top right corner to send us all the details we need for a DJ quote. To make sure you get the best price and service we need the Date of Function, the approximate Number of Guests and the venue (if it is not in Rostock . Please give us any information you feel we should know.
As soon as we get your enquiry, we will send you our quote and reserve the DJ for a day.
DJ Rostock - After the booking
Once you have booked your DJ... This is how we handle things. For peace of mind you will receive our letter of confirmation with all the details and terms we agreed to. Oftentimes there are still weeks or even month to go. Time to think about the types of music you want to hear. Of course you can also leave this up to your DJ, but as you know your guests best, it is always a good idea to give us some information on the types.
Music Requests for your DJ
The right kind of music for your wedding, party our event surely is one of the most important factors of making the night a big success. Of course there are other things, like the personality of the DJ and getting the right type of sound equipment and lights. But the music makes or breakts the party. The Mobydisc DJs from Rostock usually play two gigs a week and mostly these are private or corporate functions with mixed crowds of any age. So we have to know every type of music there is, be it Dance Charts, Evergreens or some good old German Hoompta Bands. Adn of course we mix that on the night and take requests from your guests. 
Music-request-sheet
Find our unique music request sheet here. Select all the types of music you like and let us know if there are any styles that you don't want the DJ to play. Often these are the most important choices.
Music Requests - Playlists
We are also happy to receive your playlists. You can find some suggestions on our spotify page, but send your favourite tunes to us, and we make sure the DJ gets these on the night. 
---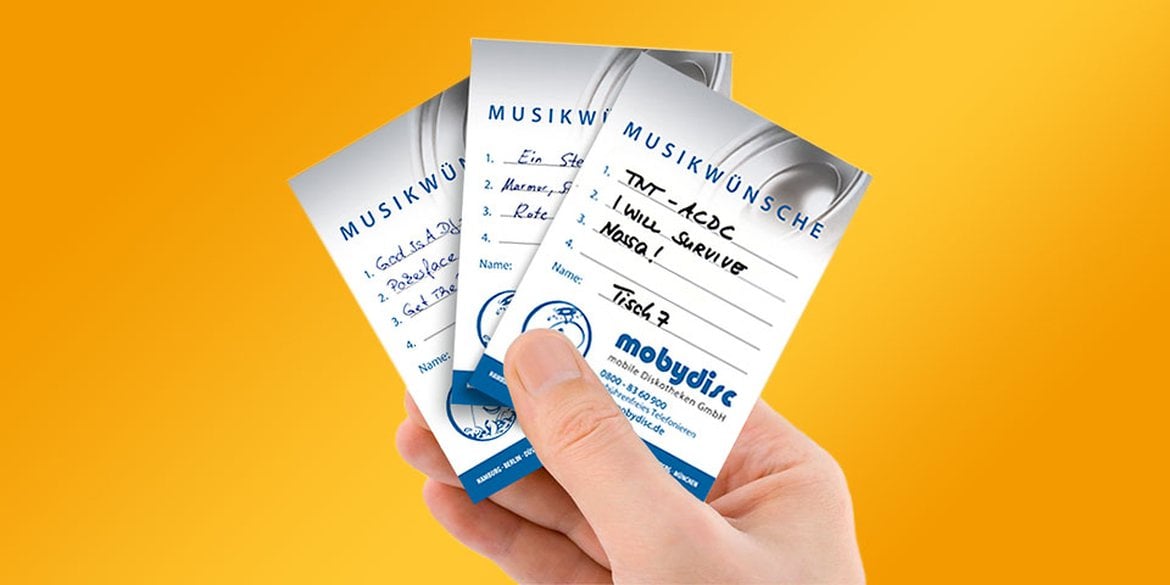 ---
DJ meeting in Rostock
We often get asked if there is a way to see the DJ in action. Unfortunately most functions are privat events, so this is a bit difficult. But it is no problem if you want to meet up with the DJ that will play at your night
In person DJ meeting in Rostock
There will be a small fee, but you will have a one on one meeting with your DJ to talk about the music and how you want your night to be perfect. We usually do this 4 weeks priort to your function.
By phone DJ
In any case there will be a phone call between the host and the DJ shortyl before your function to discuss the latest changes if needed.
---
DJ Backup services in Rostock
To make sure everything goes to plan on your night, our office will be manned on Saturdays and our after hours service means you get to talkt to a real person even late into the evening. Even if a DJ calls in sick or there should be a failure with his equipment, we make sure to keep DJs on standby just for this scenario. Ususally you would not even notice something went wrong.
---
Reviews about Mobydisc and our DJs from Rostock
We know how much effort goes into the planning of any event of function. Especially if it is a wedding. This is why we take great care in the selection of our DJs in Rostock and our technical equipment. After any party, we send emails out to our customers, asking to review their DJ. This can stay confidential, but if we are allowed, we will publish this in the DJs Sedcard. Please find a few examples of our DJ Reviews here:
Our Office Team
It's not all about DJs at mobydisc. Our friendly office staff make sure your booking is a breeze. We are with you from the first time you contact us, throughout the day of your event and after. Here are a few Thank you emails we have received over the years.
---
Super! Wir waren erst etwas skeptisch jemanden über das Internet für eine Hochzeitsfeier zu buchen. Aber der Kontakt mit Frau Fuchs am Telefon war prima und der DJ den Ihr uns dann geschickt habt, wußte wirklich was zu tun war. Perfekt, wir hätten nicht gedacht, dass unsere Verwandschaft noch so tanzen kann.
Claudia H.
Hochzeit DJ am 27.07.
Lieber HochzeitDJ von mobydisc, vielen vielen Dank für den tollen Abend. Für jeden Gast war etwas dabei und die Füße sind immer noch ganz taub vom vielen tanzen. Du warst eine richtige Bereicherung an dem Abend. Die Planung vorab war super und total unkompliziert. Ganz viele Grüße
Meike J.
Hochzeit am 04.05.
Unsere Hochzeit war ein ganz unvergesslicher Tag. Wir haben bis 5 Uhr morgens getanzt und unser DJ hat sich perfekt auf unsere Gäste eingestellt. Vielen Dank noch einmal!
Charlie W.
Hochzeit am 27.05.
Ich möchte mich auf diesem Wege noch einmal für die tolle Unterstützug und die schöne Musik bedanken! Besser geht's nicht.
Andreas M.
Hochzeit DJ am 30.11.
Unser HochzeitsDJ hat´s gerockt! Wir wollten bewusst keine Mainstream Hochzeit haben und unser DJ hat unsere Vorgaben hervorragend umgesetzt. Klasse! Wer jemanden braucht, der Kundenwünsche 1:1 umsetzt ist bei Mobydisc genau richtig!
Lisa D.
Hochzeit am 01.06.
Vielen Dank noch einmal an DJ Olaf. Er hat es tatsächlich geschafft uns bis in die frühen Morgenstunden am tanzen zu halten. Vom Brautwalzer bis zu Highway to Hell.. Alle hatten eine tolle Zeit. Viel Erfolg noch mit der Musik
Sophie M.
Hochzeit am 06.08.
Unser DJ hat am Anfang leiche Probleme gehabt sich auf unsere Hochzeitsgesellschaft einzustellen. Dann haben wir aber wie wild getanzt und alles wurde super. 
Jaqueline H.
Hochzeit DJ am 27.04.
Wir bedanken uns für eine traumhafte Hochzeit. Der DJ war spitze und unsere Erwartungen wurden absolut übertroffen. Es war von Anfang bis Ende alles perfekt... 
Rosi und Hanns E.
Hochzeit am 25.08.
Unsere Hochzeit war unbeschreiblich und unser HochzeitsDJ von Mobydisc hatte einen erheblichen Anteil daran. Als die Stimmung nachgelassen hat, wir hatten einen ziemlich langen Tag, hat er es geschafft alle wieder auf die Tanzfläche zu ziehen. Wir dachten im Vorfeld, dass alle um 2:00 Uhr spätestens ins Bett fallen und es wurde dann doch 04:30 Uhr... Wir sind überglücklich - vielen Dank für alles!  
Leander F.
Hochzeit am 04.03.
Endlich konnten wir unsere Hochzeit nachholen und Mobydisc hat mich begeistert. Wir mussten 2x coronabedingt verschieben und das Büro war immer ausgesprochen hilfsbereit und hat uns prima beraten. Unser HochzeitsDJ war einsame spitze und hat unsere Wünsche total berücksichtigt. Die Stimmung war super. Wenn wir mit DJ feiern, dann nur noch mit Mobydisc!!! TOP!
Ramona C.
Hochzeit am 12.06.
About mobydisc
We started our business in Germany way back in 1990. Today we look back at more than 2000 DJs that have worked for our company, playing for more than 60.000 events. We take pride that to this day we have our own training program and equipment to make sure we can guarantee every function to be in our high standards. By the way - we also offer Jukebox and Karaoke services.
More than 30 years in the business, 25.000 functions in Germany
Friendly, experienced & trained DJs
Instant quote availabe (need function details)
Full-Service including sound and light, Karaoke and more
More great music options
Did you know that we do more than DJs? We have extended our range of services into Jukeboxes and Karaoke
Hire a Jukebox in Rostock
The perfect solution for smaller events or smaller budgets. Our easy to set up, state of the art Jukebox. Find out more about hiring a Jukebox here
Karaoke Hire in Rostock
Our Karaoke services can be combined with your DJ, the Jukebox, or just by itself. We will deliver the Karaoke machine with everything you need to your doorstep. Or the DJ will bring it along. Find out more about our Karaoke machin hire here
Venues in Rostock (or surrounding) where our DJs have played
Are you still looking for a venue.. Anyhow we have a long list of venues and corporate clients that we played for in the recent years.. Here are some Rostock venues
Orange Lounge
Warnowufer 61
18055 Rostock
0381 29067596

Homepage

Carls Scheune
Wilsener Str. 1
18198 Kritzmow
0171 6436923

Homepage

Barocksaal Rostock
Schwaansche Str. 6
18055 Rostock
0381 4611636

Homepage

---